Part 2 of Our 5-Part Series
Welcome to Part 2 of our 5-part series on Finding the Right Digital Marketing Agency for Your Business. If you missed Part I, you can read it here: Finding the Right Digital Marketing Agency.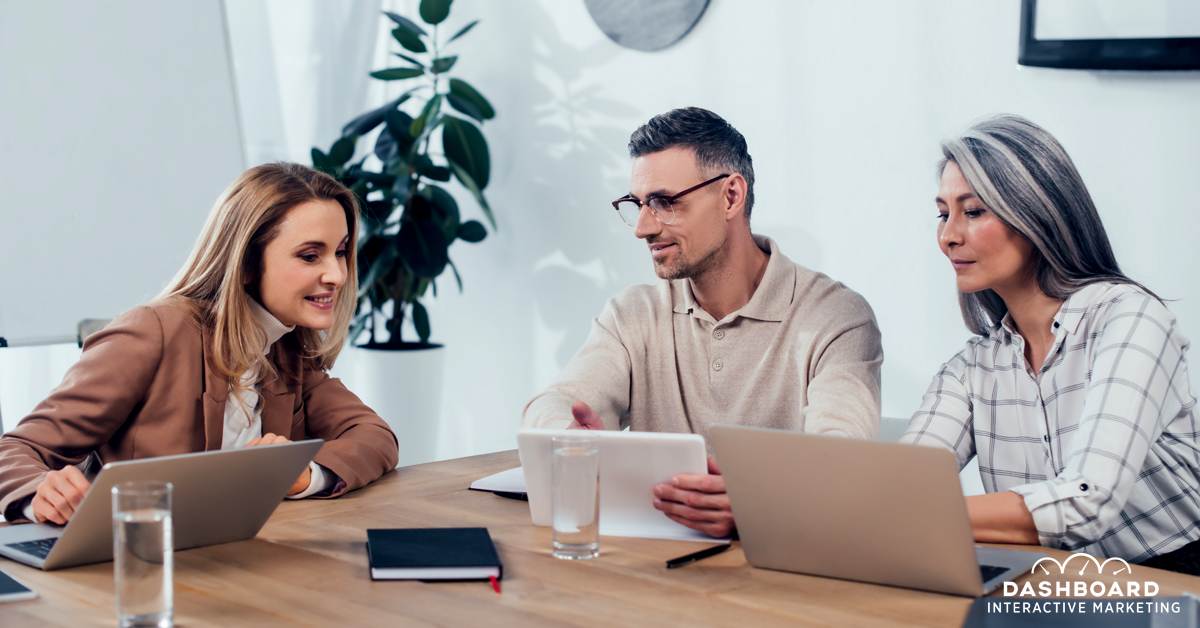 Found the perfect agency partner? Great! Before you roll up your sleeves and get down to work, there are areas to explore together.
What To Do – Evaluation Questions to Ask
Many companies neglect to ask questions that can truly help them understand how their chosen marketing agency works. We've narrowed the list down to five key questions that every business owner should ask their marketing agency. More importantly, we've explained why you should ask these questions, and potential 'red flags' to watch out for during the conversation.
How would you approach our marketing?

Come to the meeting with the marketing problem clearly identified and discussed with the agency. Don't expect them to lay out the full solution in your getting acquainted session, but do ask plenty of questions about their approach to solving marketing problems.

We suggest listening carefully to their approach to problem solving. Do they take time to do their due diligence, investigating not just your company but also the activities you've tried to date and the results achieved? Do they ask about the data – Google Analytics and other data that can help inform their marketing choices?

Red flags to listen for include companies that immediately launch into a service pitch, trying to get you to buy into the notion that by doing just one marketing activity, your problems are solved. Chances are good that they excel at that marketing activity (or perhaps only offer one type of marketing solution!) and thus they pitch it at every opportunity. There's an old saying that to a hammer, the answer is always a nail, and unfortunately, for some agencies, the answer may be solely "paid search" "paid social media" or "Facebook advertising." Look for a process, an approach, rather than a one-size-fits-all response.

Can you describe how you will work with us if we engage you to handle our digital marketing activities?

This is where the agency should describe in detail their working process. It may include deep-dives into analytics, content, website metrics, or multiple meetings to better understand your products and services.

Every digital marketing agency is unique, and there's really no one-size-fits all model. Some agencies schedule weekly check-in calls, while others prefer to do the work and then meet to present it. Find a method that you are comfortable with and be sure you understand how they work to see if their method aligns with your working style.

Red flags include agencies who can't describe how they will work with you. If they don't know, they don't have a set process for client engagements, and this may lead to a bumpy ride as you onboard with them.

How will you evaluate our project results?

A good digital marketing agency focuses on KPIs and ROIs. They want to know whether or not they've hit a home run or struck out. They should focus on quantifiable methods of determining campaign successes. They should be able to present to you a list of metrics that provide measurable results.

Red flags include agencies that waffle about how to measure results or who focus solely on marketing output rather than results. Output means they focus on what they produce for you instead of the results they produce for you. If they're focused on generating 10 blog posts a month and 30 social media posts, but they cannot say how they will evaluate the results of the blog posts or social media posts, you may want to consider another agency. Although output is important, it's results that count – and the leads and revenue that digital marketing campaigns generate for your business.
What NOT to Ask
There are a few things we would caution you not to ask of your digital agency partners, too.
Can you share the analytics of other campaigns you have worked on? Although many agencies provide case studies to share results, some cannot. Depending on the industries they work in, they may have strict confidentiality agreements on file that prohibit not just sharing results but even sharing the names of past clients. Ask more questions about process, approach, and solutions in such cases and be respectful of agencies that decline to share results of specific client campaigns. They may not be able to share the data.
Will you work on a percentage of sales? In any marketing campaign, there are too many variables for any reputable agency to work purely "on spec' or on a percent of revenue basis. An agency may welcome a bonus if they hit specific revenue or lead targets, but asking them to essentially work free with the promise of potential future revenue isn't an acceptable practice in the marketing industry.
Can you copy the campaign/website/social media posts of XYZ? It's unethical, impractical, and probably not worth the time to copy someone else's marketing. Why be a pale copy of an original when you can be an original? Besides, you don't know whether or not their marketing campaign is generating the desired results. Just because you like it doesn't mean it is a good fit for your business.
Other Questions to Ask
Depending on what's important to you, you may wish to ask a few other questions:
How long have you been in business?
Who is the team who will be working on our account? Can you share their credentials and work experience with us?
If we need services which your company does not offer, how do you fill this gap?
What payment methods do you accept?
How do you define a successful client engagement?
We trust that these questions will be helpful to you. In our next article, we'll share with you what to expect once you hire a digital marketing agency.
If you have any questions for us drop us an email. We'd love to get to know your business and help you determine whether or not we're the right agency partner for you.
Call Dashboard Interactive Marketing at 763-242-2454 or contact us via email.