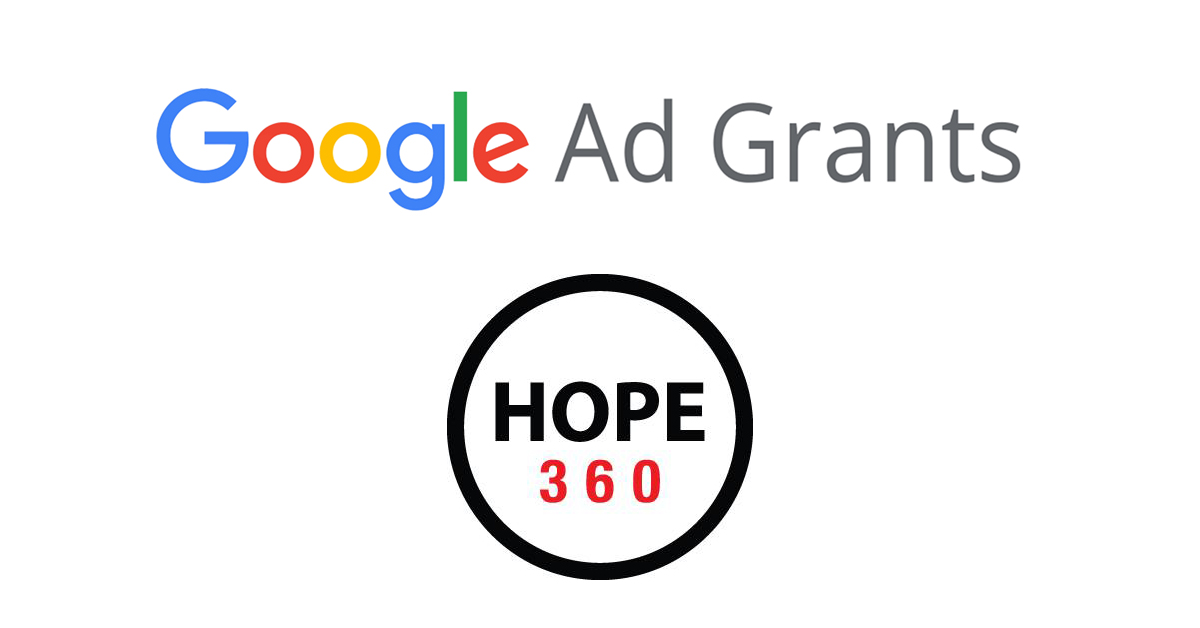 Some said it couldn't be done…
We've not shared a written success story about a nonprofit client to date as we work primarily with small and medium sized businesses and agencies, but this is a situation in which what's been accomplished online is inconsistent with what many have believed possible. We've occasionally shared snippets without providing much detail and those who are familiar with the Google Ad Grants program and its high standards have been amazed by what they've heard.
Hope 360 is a pro-bono client that we support and their mission is to share personal stories of Hope on video. They do amazing things and allow individuals who have gone through very difficult times to share their stories via video in order to encourage and provide support to others who are currently going through their own difficult times.
Hope 360 was awarded a Google Ad Grant in February of 2014. Google Ad Grants is an in-kind program that gives nonprofits $10,000 per month in free advertising on the Google Search Network. That's right, $10,000 worth of free clicks in Google Ads each month and there were 35,000 Google Ad Grants users worldwide at the beginning of 2018.
The rules for Ad Grant's users were similar to those for traditional Google Advertising customers. One key exception was the max cost per click of $2.00 per click. This provided a constraint and limited the ability to access some relevant keywords phrases, but it's hard to complain when you're receiving a gift of $10,000 a month in free advertising.
Hope 360 was successful in reaching many individuals in need of help and encouragement. They were managing the Ad Grants campaign internally and then we were introduced to Doug Kauffman, Founder and President of Hope 360. Doug has a heart for those who are hurting and founded Hope 360 out of his own experience. One discussion lead to another and in April of 2017 we began managing their Google Ad Grants account. The intent was to further optimize the campaigns and improve their effectiveness. They were running six Google Ads Campaigns, incorporating 12 AdGroups.
We began to see results shortly after and in December of 2017 realized a 3.44% CTR (click through rate), up from 2.18%. Hope 360 also added an additional campaign intended to increase support, thus expanding their reach to others in need of encouragement. Things were moving ahead nicely.
Then in January of 2018, Google made major changes to the Google Ad Grants program. Google changed their minimum CTR requirement to 5.00%, which many nonprofits and even agencies, initially viewed as unachievable for many nonprofits. Some felt this was intended to weed out organizations, yet Google's stated intent was to add clarity and raise standards of quality for their free advertising grants. Whatever the reason, this was cause for concern and non-compliance would result in suspension of the grant.
To put this in context, according to a study by WordStream, the average click through rate on AdWords paid search ads was 1.91% across all industries, with Advocacy, which captures most of the world's nonprofits, realizing a below-average 1.72% CTR. (However, Google says that their average CTR for nonprofits was at 8.00%.) There were additional changes announced, including changing the bid strategy to Maximize Conversions (which required the set-up of campaign goals), the removal of the $2.00 max click cap, additional geotargeting guidelines, a minimum keyword quality score and site link requirements, etc.
Though we were seeing a click through rate of 3.44%, this was cause for concern. The new minimum CTR was now 5.00% and we needed to improve performance by over 1.50% to reach minimum standards.
We went to work and were successful in achieving a 5.06% CTR in March. Then in July of 2018, conversion tracking was installed and we began to re-optimize the account. In many respects it was like starting over as Google needed to relearn and adjust per machine learning.
We continued to make changes and adjusted a number of variables and then began to realize click through rates above 9.00% in November of 2018, something we were told would be highly unlikely to achieve. We then began to see CTR's in excess of 9.00% on a regular basis, while continuing to make adjustments.
The next step was to increase our ad spend. What good is $10,000 a month in free advertising if you're not reaching your spending limit and only reaching a small segment of those in need of help? Prior to the program change Hope 360 was consistently maxing out the $10,000 a month advertising gift. Then after the program change, the low point reached less than $100 for a single month.
While continuing to make adjustments we began to see increases in spend. In May, the spend exceeded $3,300. In August, the spend exceeded $6,500 and then in October, we reached the $10,000 max spend and Hope 360 is reaching people who might not have been reached and is changing lives as a result.
According to Doug Kauffman, Hope 360 President and Founder, "the Google Ad Grants program has enabled us to increase the people that we help and provide hope to as well as raise more money so we can in turn reach more people."
If you would like to know more about Hope 360, please visit their website at https://www.hope360.org/. If you know of someone going through a difficult time and in need of hope, please share this link with them as well.
We're thankful to have the opportunity to partner with Hope 360. They do great work and have a heart for those in the middle of significant life challenges. They are positively impacting individuals and families and, in some cases, saving lives.
If you would like to know more about the Google Ad Grants program or need help with Google Ads, please give Dashboard Interactive a call. We're here to help and can be reached at 763-242-2454.