What was the most useless gift of 2019? A 2020 planner, because this year, absolutely nothing is going according to plan.
But just because nothing is going according to plan doesn't mean small businesses should give up. Instead, small businesses that change and adapt will thrive online and can thrive in general.
History has proven, time and again, that organizations that embrace change quickly, plan accordingly and implement effectively succeed during challenging times and grow faster as the economy improves. Below are a couple of examples.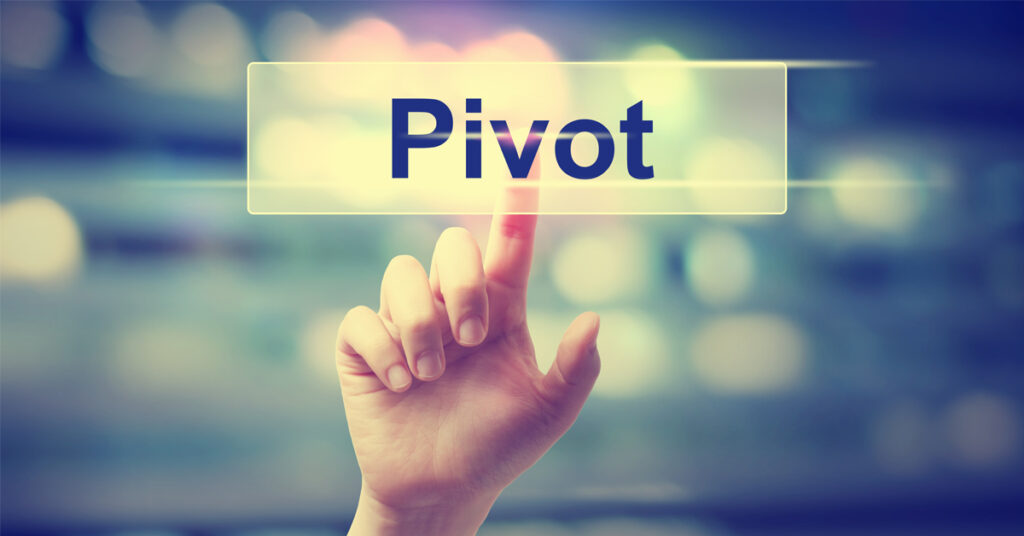 A Tale of Two Companies
Businesses who were slow to adapt to e-commerce now find themselves rushing to fill the lack of in-store traffic with online orders. Two companies we've spoken with in the last several weeks are great examples of how a shift in mindset and approach to business can transform a bleak situation into a promising one.
A Shift in Marketing and Target Kept This Company in the Black
A friend of Dashboard's copywriter launched a lunch delivery service in Manhattan in January 2020. Her new business focused on healthy plant-based, whole food meals delivered to offices any time, day or night. But with the shutdown hitting New York in March, the new business' booming sales ground to a halt. What to do? Shift to an e-commerce model and home delivery instead of office delivery.
Jessie, the company's founder, shifted the entire marketing focus in a matter of weeks to transform their online menu into an interactive ordering system. By April, orders were again rolling in as her delivery fleet rolled out healthy meals to homebound Manhattanites.
Fast-Track the New e-Commerce Store
This company specializes in unique close-out furniture, rugs, lighting, and home accessories.
Although the company had often debated adding an e-commerce portal to their sales channels, there never seemed to be enough time. The emphasis on one-of-a-kind pieces made adding an e-commerce channel daunting. It would mean having someone write not just a few rug or lamp descriptions, for example, but hundreds.
The shutdown of retailers in their state, however, and the travel restrictions meant that the higher-end shoppers who flocked to their retail store came to a standstill. The company wanted to avoid layoffs, but how to generate income when their retail locations were forced to close?
Now the company fast-tracked its e-commerce model. Instead of trying to do everything at once, they chose one furniture category, lamps. They began adding pictures, vivid descriptions, and information pieces to educate first-time buyers of antique lamps. The results? Over a dozen items were sold the first week, paying for the transition to e-commerce and providing hope for the company's revenues. It seems that with everyone stuck at home staring at their furniture, people want new items – and possibly rugs, couches, tables, and other items the company can add to their e-commerce store.
Find the Customers Online Who Want What You Sell (and Can Afford It)
With so many tales of gloom and doom in the news, these two stories are both positive and inspiring. In both cases, the owners of each company could have thrown up their hands and given up. The entrepreneur who started her meal delivery company could have shut down until the quarantine was lifted in Manhattan; the furniture merchant could have laid off employees and hoped for the best.
Instead, both companies achieved their goals using digital marketing and e-commerce solutions.
Nothing is 'business as usual' during the COVID-19 pandemic. It's "business unusual" with companies forced to think around problems, over obstacles, and through any barriers to sales. Companies that hope to survive this stressful time must consider e-commerce channels. Unless your business is deemed an essential service, online is the way to go.
Setting up a new e-commerce site or adding an e-commerce site to an existing web portal takes significant time and expertise. Dashboard Interactive Marketing can help you upgrade your current website so that you can start making sales online or improve an existing e-commerce site for better natural or paid search engine traffic and higher conversion rates.
Don't wait another day when there's money to be made to keep your business alive. Our copywriter, Jeanne, remembers a story her dad told her about growing up in the Great Depression. Jeanne's dad was a delivery boy for a butcher shop in the upper East side of Manhattan in 1935. "Even during the depths of the Great Depression, there were still wealthy people ordering choice cuts of meat," her dad used to tell her. What he meant was that even when the economy was at its worst, there were still people who could order expensive products. The key is finding those people and offering the "choice cuts of meat" they desire. In today's world, that means connecting with people via the internet, finding the ones who want and need the products and services that you offer, and providing them with a platform to make it easy for them to buy from you.
For assistance transitioning to an e-commerce model or for any digital marketing needs, contact Dashboard Interactive Marketing today, 763-242-2484